ORGANIZER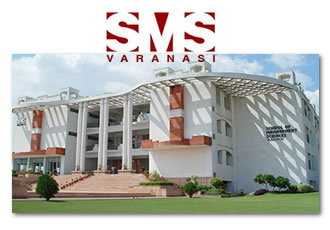 School of Management Sciences, Varanasi
School of Management Sciences, accredited with 'A' Grade by NAAC was established in 1995, as a premier institution of higher learning in Varanasi which is one of the most ancient cities of the world and an acclaimed seat of learning undertaking cultural, spiritual and religious pursuits. The institute was established to provide management and technical education of highest quality to the students and making them not only skillful but also an excellent human being full of ethical and moral attributes. SMS, Varanasi has constantly made sincere efforts towards its objectives and has therefore been able to take a quantum jump by grading among the India's Top 50 Best Business Schools by reputed Business Magazines and Rating Agencies. SMS, Varanasi which is internationally accredited offers PGDM, MBA, MCA and M.Com Programs at the master's level as well as BBA, BCA, B.Com and BA (Hons) Mass Com. at bachelors level. SMS possesses one of the best and ultra-modern facilities with a special thrust on pedagogical activities to inculcate budding managers with the value system that shapes them into global citizen whose wider contributions are expected towards the progress of business world.
Centre for Spiritualism and Human Enrichment

Centre for Spiritualism and Human Enrichment was established by School of Management Sciences in the year 2003 with the noble objective to create a strong platform for all those who are interested in contributing towards enriching human lives and the modern management science through spirituality.
This Centre has been established to explore the possibility of blending spirituality and human values with the modern management principles and practices so that a new sustainable and holistic model of management could be created. Since its inception in the year 2003 this Centre is making sincere efforts to fulfill the objective for which it has been established. Centre has already organized numerous conferences, seminars and workshops of national and international level to gather and disseminate ways and methods for inculcating spirituality and human values in management theory and practice. Publications of journal and books have also been a regular feature of the Centre for spreading the relevant knowledge. Its Journal 'Purushartha' has world-wide presence through open journal access system of Inflibnet established by University Grants Commission, Govt. of India and the journal is also indexed by Elsevier through Scopus. Centre is also making sincere efforts to develop free e-content knowledge material based on the objectives of the Centre for reaching to the people across the world.